Fine Up Box Steamer (SSO-1BB,2BB)
About the Fine Up Box Steamer
The Fine Up Box Steamer is a compact, box type steamer. Our proprietary ultra-low-pressure secondary steam generator and FSC system achieve improved quality and product loss reduction.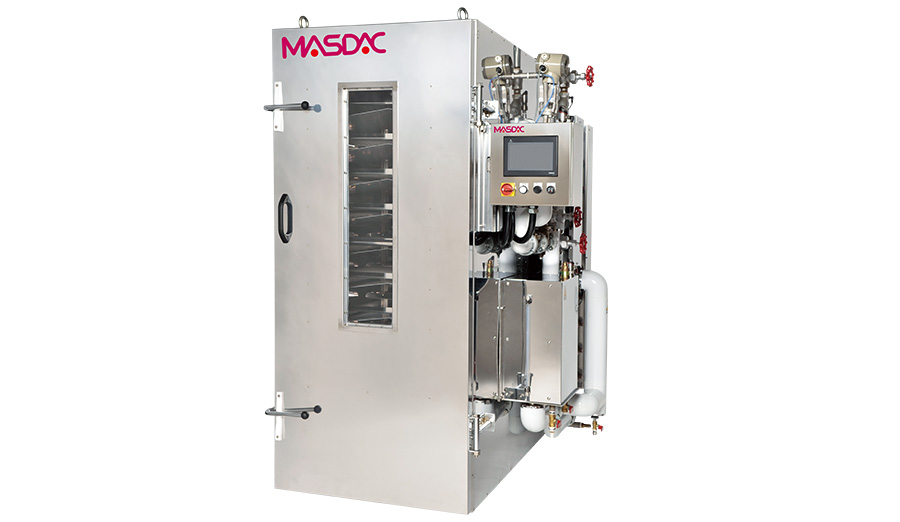 Product Information
Features
1. Ultra-low-pressure secondary steam
The steam is perfect for steaming confectionery, achieving fluffy products with a beautiful color and even steaming without cracking. The temperature and saturation of the steam can be controlled, covering a wide range of products.
2.Works with all kinds of steamed confectionery
Saturation of the steam and temperature can be adjusted to each product.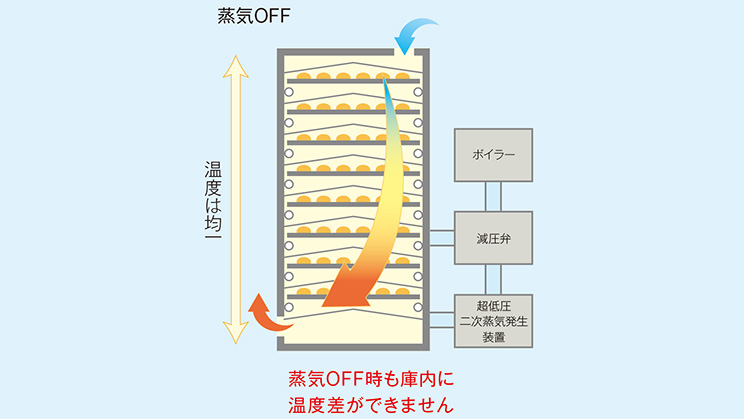 Features
3. Reduces product loss
Steam pipes are installed on each rack, enabling even steaming in all racks. Steam reflector plates that spread steam evenly throughout the entire steam layer also prevent product losses, which happen from condensation water falling on the products. Our new temperature control system, FSC system, circulates steam within the machine, reducing temperature variations.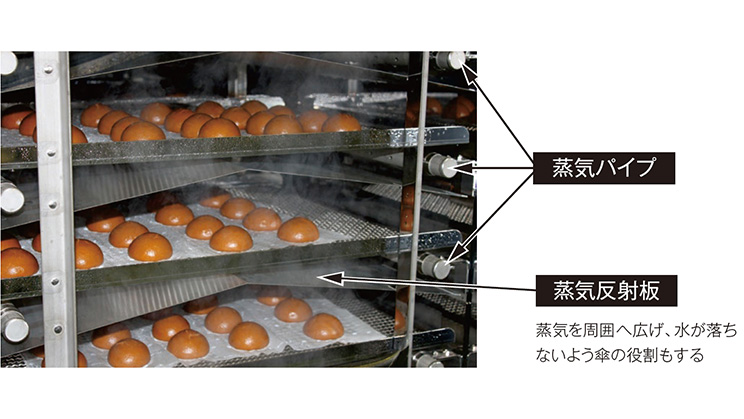 Food and confectionery that can be produced with the Fine Up Box Steamer
Pudding

softmoon cake
Case studies of customers
who use the Fine Up Box Steamer
Proposing recipes
using the Fine Up Box Steamer
Adoption flow
We utilize our experience cultivated as a confectionery machine manufacturer for more than 60 years to entirely support our customers from before ordering to after the delivery.
①

Meetings and
propositions

We hold meetings to discuss what products a customer is looking to produce and provide various propositions.

②

Pre-test

Customers can actually use a machine in our Application Center and test using their own recipes before adoption.

③

Quote and
contract

We propose perfect machinery and equipment according to the test results.

④

Pre-shipment inspection

Our quality assurance staff conducts the final check before shipping the machinery.

⑤

Delivery and test run

We deliver the machinery to our customer's factory, test run the machinery, and witness the first production on-site. We will handle each case responsibly until the machinery operates perfectly.