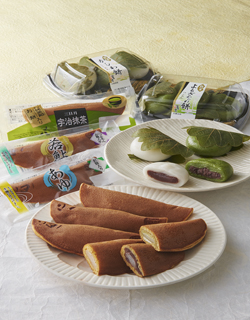 Dorayaki Machine

Steamer

Ayuyaki・Anmaki
TOMITAYA
TOMITAYA based in Tondabayashi City, Osaka Prefecture, is Japanese confectionery manufacturer that mainly produces Japanese fresh confections sold at major supermarkets in the Kansai region.
Currently, the company produces 50 to 70 products a year, based on 10 types of confections, including the signature products "Kine Tsuki Kashiwa Mochi" and "AN Doughnut". In addition, "Ayu-yaki" has become a hot seller in recent years, and the company has strengthened its production system by updating its machines.
In addition, the company has begun online sales to cultivate new markets, develops products for mail order, and offers recipes using its own products.
On the other hand, the company is also actively engaged in "food waste reduction" and "improvement of workplace culture," and has been certified as an SDGs partner by Tondabayashi City.
While working hard to improve the workplace environment and develop new products, the company is promoting the development of sales channels in supermarkets and on the Internet.


Half-moon Yaki and AyuーYaki baking machine
In February 2022, the company updated its half-moon Yaki and Ayu-Yaki baking machine, which has been used since it was first introduced in 1976.
The company produces "Ayu", "Wakayu", and "Mikazuki"which are fillied with Gyuhi mochi or AN (sweet bean paste) sandwiched between thin, chewy dough, and "Hanzuki" which is "half-folded Dorayaki. The company also sells limited-edition products with different fillings for each season, which have become its mainstay products.
The machine was updated with more capacity than before.
According to customer, We have been able to maintain stable production since the renewal of the machine. Ayu-Yaki sales have increased 110% compared to last year, and we are continuing to improve the dough and filling. We hope to increase production even more in the future.
From the upper right "Hangetsu" and from the upper left, "Mikaduki (Uji Matcha Green Tea)", "Wakaayu" and "Ayu"

Production of "Mikaduki (Uji Matcha green tea)". The dough is deposited into an oval shape, baked, filled with Uji Matcha green tea bean paste, and then folded by hand with Gyuhi mochi on top.

Branding patterns with a branding iron

Fine Up Box Steamer

Two box steamers are used to produce various types of manjus (buns) such as brown sugar manju, kashiwa mochi (rice cakes), and Dango.

"Kashiwa-mochi", "Yomogi kashiwa-mochi"

Produces a variety of steaming products
MASDAC NEWS trial version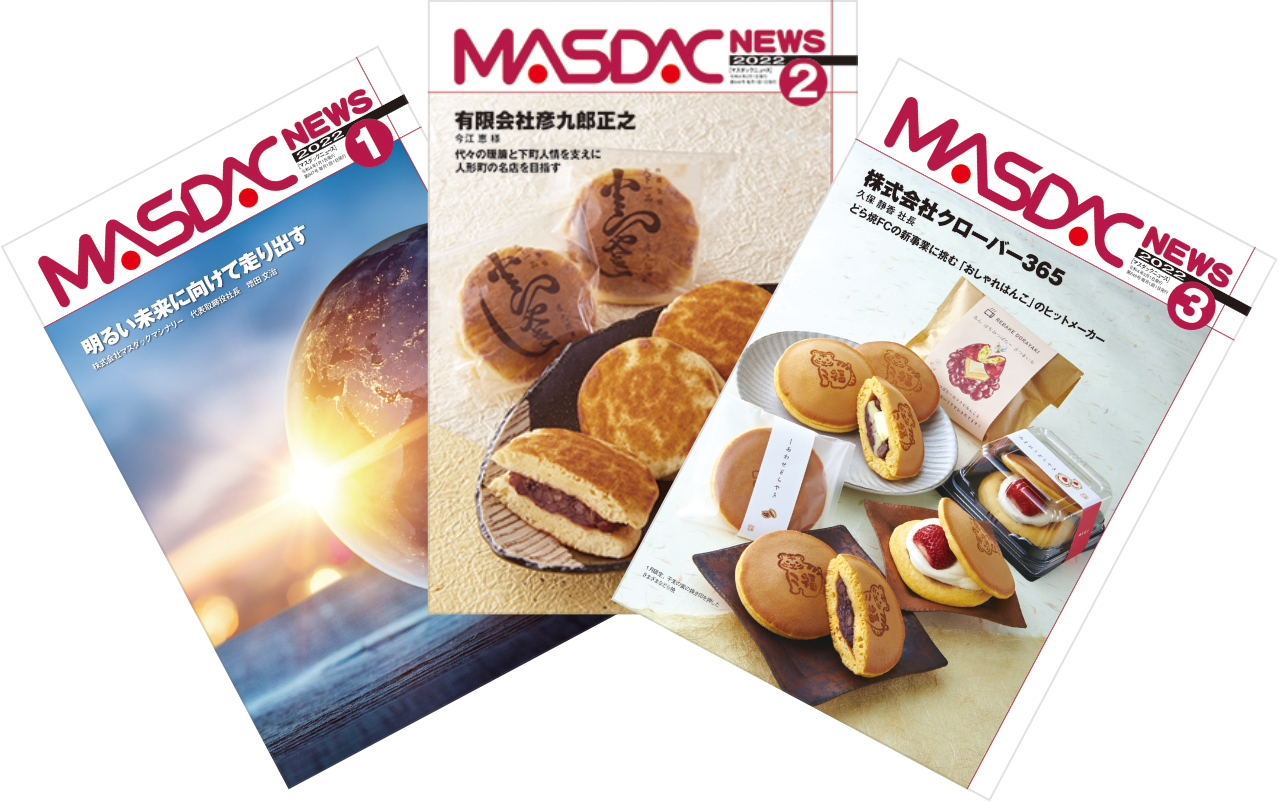 Case studies are published in our PR magazine MASDAC NEWS delivered to users. In the magazine, we present various information related to sweets and food manufacturing, including an interview with our customers' top management. Here, you can check out the trial version of the magazine. For periodical delivery of the MASDAC NEWS in a printed format, please send us a request via the following request form.
View the Trial Version (PDF)
Contact Us
Feel free to contact us about MASDAC machines and services.
CONTACT US
TOP