About the Tunnel Oven
The Tunnel Oven is suitable for mass production due to its efficient baking. We have three feeding types: caterpillar type, steel belt type, and net type.



Caterpillar Type Oven: STO

Put sheet pans and mold trays on the caterpillar to bake cream puffs, financiers, tarts, and base sponge cakes. It is easy to switch products and thus suitable for producing various kinds of products. It is also possible to create lines before and after this machine.



Steel Belt Oven: SBOS

Deposit batter directly on the steel belt to bake cream puffs, bouchees, sheet cake, langue de chat, cookies, sables, and manju. The productivity is very high and the machine is perfect for full automation.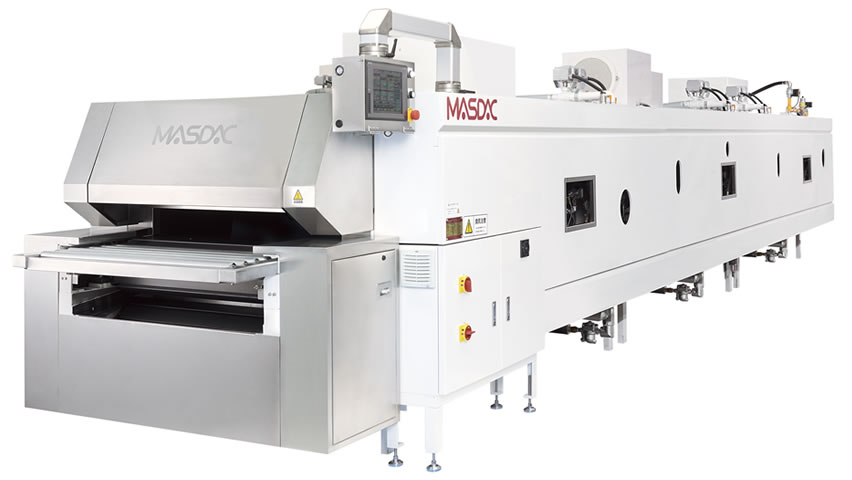 Benefits of the Tunnel Oven
Product Information
Features
1. The unique burners can control the amount of heat from low to high, making it suitable for a variety of confectionery from sponge cakes to cookies.
2. Far-infrared plates are effective in preventing uneven baking, cooking through, and reducing baking time.
3. The machine is durable and has a heat-resistant structure.
4. The system puts importance on safety.
5. Heat source options include gas, electric, or combination use of gas and electric.
Food and confectionery that can be produced with the Tunnel Oven
Cream puffs

tarts

bouchees

roll cake

financiers

cupcakes

baked manju

sheet cake

cookies

langue de chat

sables
Case studies of customers
who use the Tunnel Oven
Proposing recipes
using the Tunnel Oven
Look for another tunnel oven or integrated production line
Adoption flow
We utilize our experience cultivated as a confectionery machine manufacturer for more than 60 years to entirely support our customers from before ordering to after the delivery.
①

Meetings and
propositions

We hold meetings to discuss what products a customer is looking to produce and provide various propositions.

②

Pre-test

Customers can actually use a machine in our Application Center and test using their own recipes before adoption.

③

Quote and
contract

We propose perfect machinery and equipment according to the test results.

④

Pre-shipment inspection

Our quality assurance staff conducts the final check before shipping the machinery.

⑤

Delivery and test run

We deliver the machinery to our customer's factory, test run the machinery, and witness the first production on-site. We will handle each case responsibly until the machinery operates perfectly.