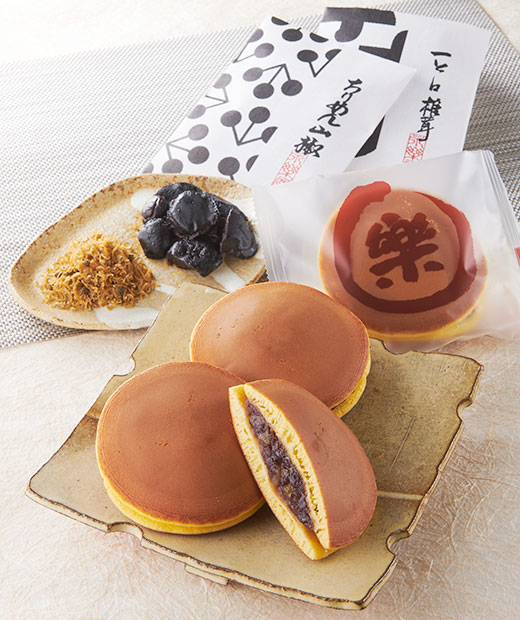 Dorayaki Machine

Dorayaki
EIRAKUYA Co. Ltd.
EIRAKUYA was established in 1946. The main factory was built in Yamashina, Kyoto Prefecture, and a branch store in Nihonbashi, Tokyo, in 1960s.
It is a famous and peerless store that manufactures and sells both sweet items (confectionery) and spicy items (tsukudani foods stewed in soy sauce, and delicacies). EIRAKUYA uses select ingredients for both categories to achieve elegant flavors. These products are widely loved as gifts.

Location:100 Nishino Otoriicho, Yamashina-ku, Kyoto City, Kyoto Prefecture
URL:https://www.eirakuya.co.jp/
Publication:MASDAC news June issue in 2023
Compact Type Dorayaki Machine (SDR-SGA-14Z)
EIRAKUYA added a Compact Type Dorayaki Machine (14 copper sheets) in January 2023.
Combined with the Compact Type Dorayaki Machine (10 copper sheets) bought in 1990, a total of two machines are in operation.
"We have used both the fully automated line and Compact Type Dorayaki Machine, but considering the balance between the sales volume and production volume, as well as how we create added value to products (products baked in the morning are sold with an expiration date of the next day), switching the fully automated line to a Compact Type Dorayaki Machine (14 copper sheets) to have two Compact Type Dorayaki Machines was the perfect setup.
Mikasa is manufactured from 8:00 every morning using the newly adopted Compact Type Dorayaki Machine.
After red bean paste is sandwiched and packaged, the items are displayed at each store from about 10:30 a.m.
EIRAKUYA uses the old machine to manufacture Chofu, its regular item throughout the year, and a seasonal product, Ayuyaki.
When things are busy, two machines are used to manufacture Mikasa. "The machines are easy to handle, and the baking results are always the same no matter who operates them. Compared to the old one, there are fewer parts, making it easy to clean. It is also less hot around the machine, making the operation more comfortable."

Mikasa has coarse red bean paste and minced chestnuts.

Chofu is decorated with various stamps according to each season (the photo is of a carp streamer from Tango no Sekku (Children's Day)).

Mikasa in production

The Compact Type Dorayaki Machine that manufactures Chofu has been in operation for over 30 years.
MASDAC NEWS trial version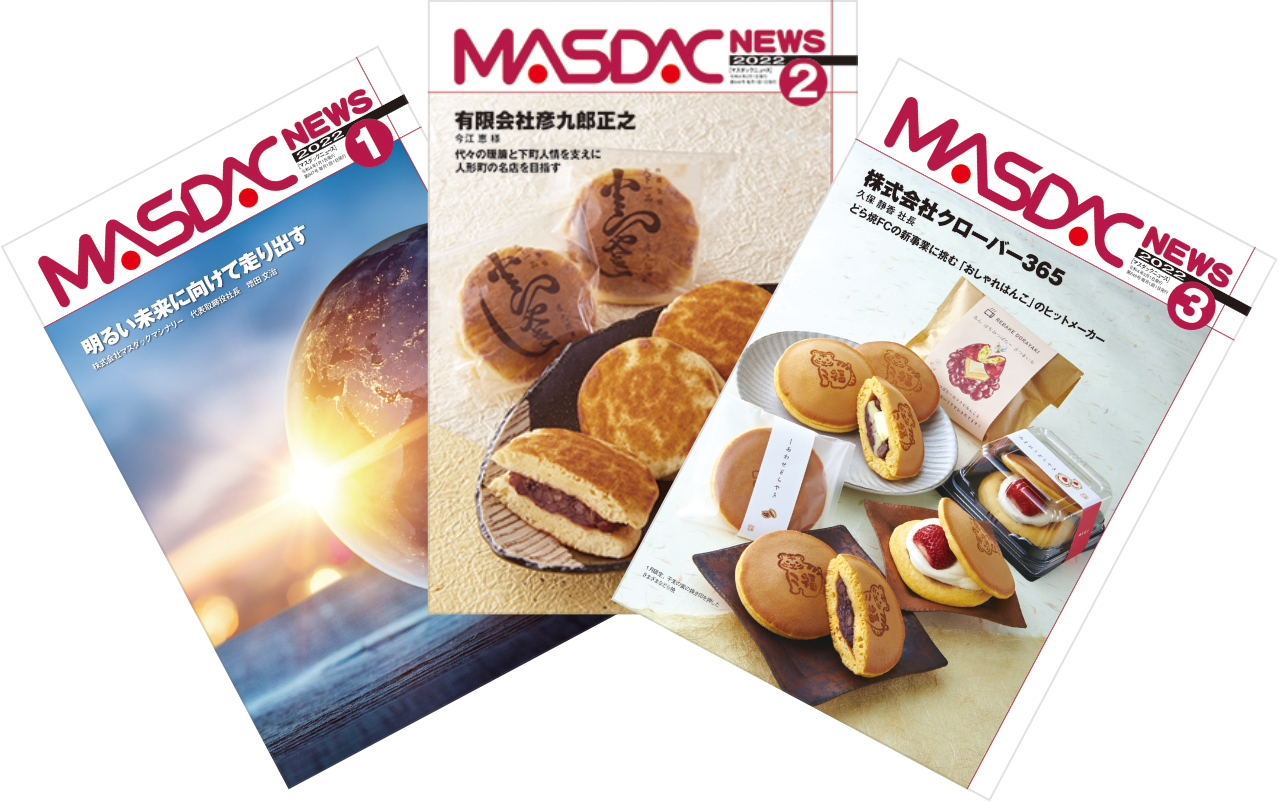 Case studies are published in our PR magazine MASDAC NEWS delivered to users. In the magazine, we present various information related to sweets and food manufacturing, including an interview with our customers' top management. Here, you can check out the trial version of the magazine. For periodical delivery of the MASDAC NEWS in a printed format, please send us a request via the following request form.
View the Trial Version (PDF)