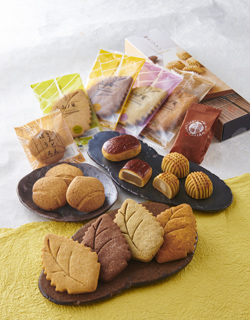 ENAKAWAKAMIYA
ENAKAWAKAMIYA, a well-known chestnut confectionery, produces and sells seasonal chestnut kinton and mont blanc, as well as various other chestnut confectioneries.
Together with farmers, they have developed the specialty chestnut into the high-quality regional brand Ena Chestnut, and are spreading the business model to other regions and materials..
Shops are located mainly in Ena City, but also in Nagoya and Tokyo. The shop is lined up with a variety of products that makes the most of the ingredients, including Japanese and Western confectionery made from chestnuts, brown sugar and Anno sweet potatoes made in the company's own workshop on Tanegashima Island, Kagoshima Prefecture.
In 2018, they received the Minister of Agriculture, Forestry and Fisheries Award for outstanding examples of sixth industrialization and local production for local consumption.
Tunnel oven
Construction of a new plant was completed in February 2022. They purchased an additional tunnel oven. They told that 'We introduced the line as a dedicated Sable line. The oven length is longer than before, but the finished product is the same and the quality is stable".
Chestnut Sable - Yama no shiori - is a leaf-shaped Sable made from strained chestnut powder with astringent skin. It is baked slowly at a low temperature to utilize the flavor of the ingredients and give it a crispy texture.
Previously, after formed products, the baking trays were manually placed into the oven, but in the new plant, a conveyor and loader have been connected so that they can feed trays automatically.
The baking trays are automatically returned after the products are taken out, making the line streamlined. In addition, an automatic lubrication system has been added to the oven. Daily maintenance is also easier.
View of oven entrance. Three baking trays are lined up and automatically fed into the oven.

Chestnut sable - Yama no Shiori - (plain, cocoa, black tea, brown sugar).
In addition, the existing tunnel oven produces a variety of baked confectionery such as Ena chestnut Manju, while the fully automatic Dorayaki machine produces Dorayaki with Anno sweet-potato paste and mashed sweet-potato paste with chopped chestnuts.
Black Dorayaki and butter Dorayaki produced by fully automatic Dorayaki machines.

The various baked snacks produced in Tunnel oven
MASDAC NEWS trial version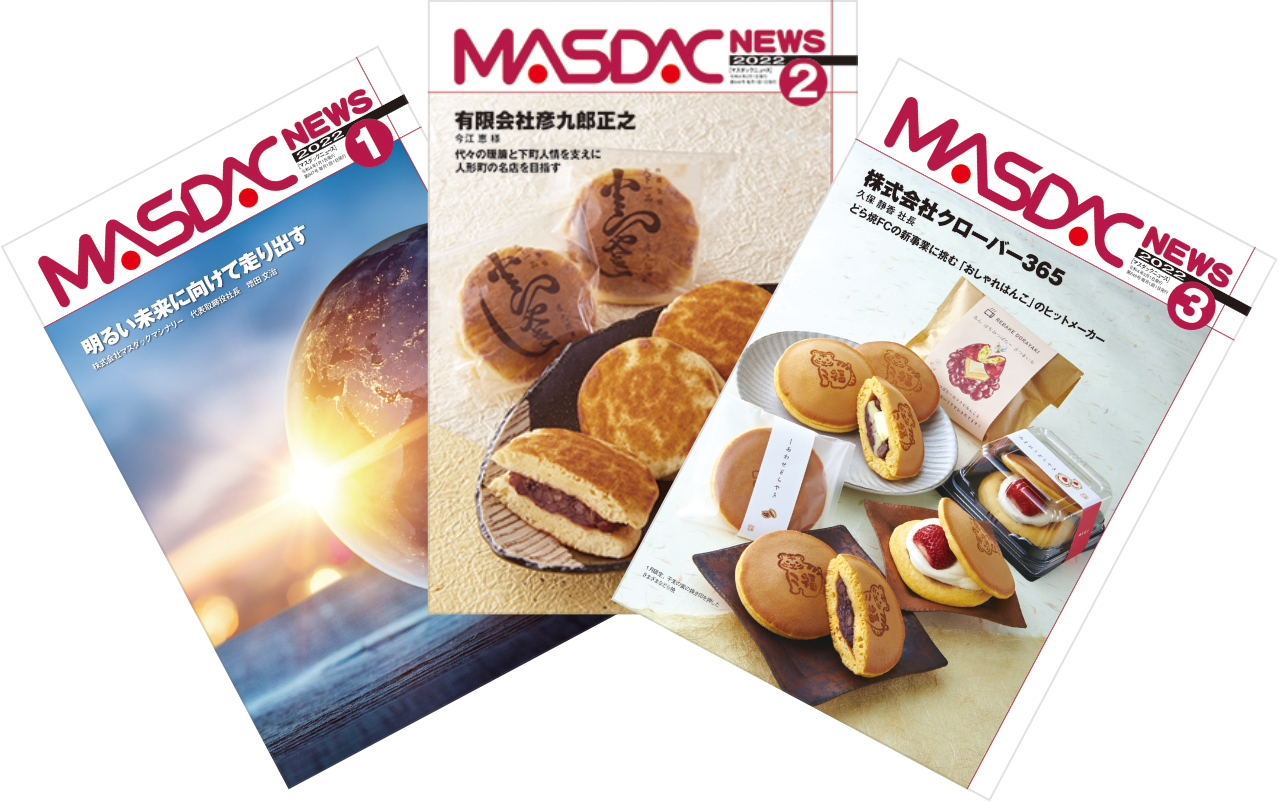 Case studies are published in our PR magazine MASDAC NEWS delivered to users. In the magazine, we present various information related to sweets and food manufacturing, including an interview with our customers' top management. Here, you can check out the trial version of the magazine. For periodical delivery of the MASDAC NEWS in a printed format, please send us a request via the following request form.
View the Trial Version (PDF)