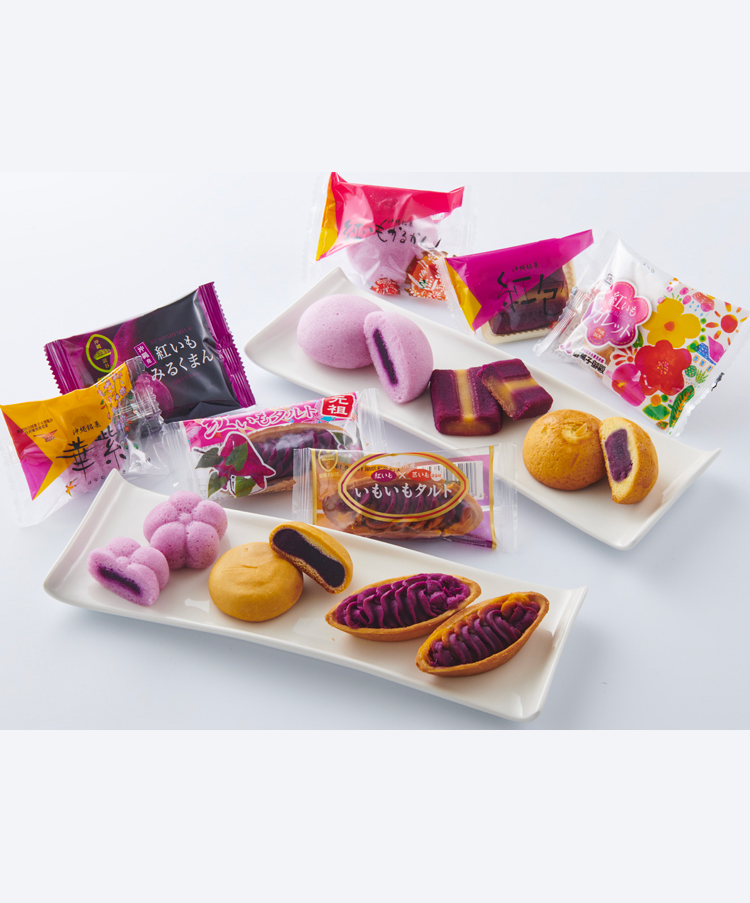 OKASHI GOTEN
OKASHI GOTEN leads Okinawa's souvenir confectionery industry with Ganso Beniimo Tart produced with red sweet potatoes from Okinawa Prefecture. OKASHI GOTEN has created sweets and shops that take advantage of locale to promote local agriculture, tourism, and employment.
In 2001, they built a large-scale complex Okashi Goten in Onna Village. Okashi Goten is in a shape motif of Shuri Castle and has a factory and café. Including four large-scale Okashi Goten where visitors can view the production lines, they currently have 12 of them in Okinawa Prefecture.
Many of their products are sweets using red sweet potatoes, but they also develop products taking advantage of other Okinawan local specialties. At Yomitanson main shop, visitors can view production lines for Imoimo Tart (released in 2016), made with a mix of Yomitan Akane potatoes that the village newly started cultivating and red sweet potatoes, and Almond Chocolate Sand (released in 2018) with two flavors: red sweet potato and brown sugar caramel sandwiched between crispy galette.

Beniimo Tart line
OKASHI GOTEN uses our machines for their production of various souvenir sweets including famous Ganso Beniimo Tart.
The Beniimo Tart line was replaced in 2015. The replaced line increased the production capacity compared to the previous one. "Placing alarms on the production line to warn about abnormalities has enabled us to prevent big trouble."
Some materials used for parts of the machines have been changed and safety covers were installed to enhance safety and hygiene.
Ganso Beniimo Tart

Imoimo Tart

Red sweet potato paste is deposited in a molded tart shell, and then it is baked.

Visitors can watch the sweets in production.
Sandwich cookie line
The line manufactures one of their new products, Almond Chocolate Sand released in 2018.
Almond Chocolate Sand (beniimo and kokuto caramel)

The state of production
MASDAC NEWS trial version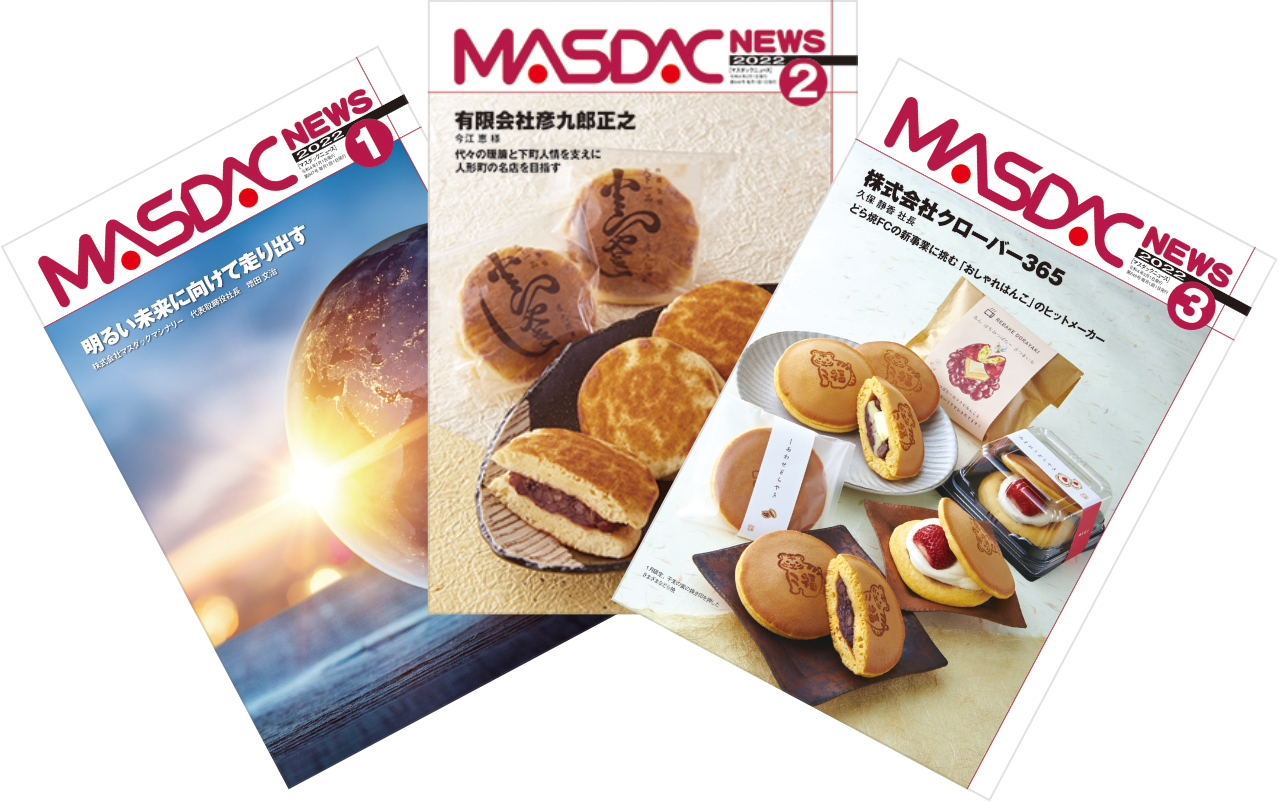 Case studies are published in our PR magazine MASDAC NEWS delivered to users. In the magazine, we present various information related to sweets and food manufacturing, including an interview with our customers' top management. Here, you can check out the trial version of the magazine. For periodical delivery of the MASDAC NEWS in a printed format, please send us a request via the following request form.
View the Trial Version (PDF)