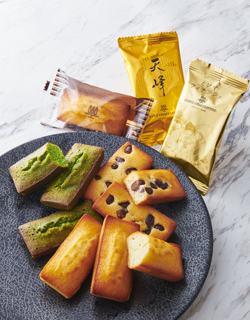 Depositer

Oven

Financier・Madeleine
SUZETTE HOLDINGS
SUZETTE was established in 1969 as Henri Charpentier, a café famous for Crêpes Suzette, which are flambéed with blue flame.
In 1975, SUZETTE opened shops in department stores, expanding their sales channel nationwide as a high-end sweets brand that provides baked sweets, including fresh cakes and financiers.
In 2014, SUZETTE opened their first overseas shop in Singapore. The company has been increasing the number of shops with cake as their main offering.
SUZETTE also expanded to run a total of four brands from the second brand C3 (C Cube) popular for tiramisu, to back haus IRIE and casaneo.
As part of its CSR activities, SUZETTE has created a looping system that brings joy back to both the supporter and the recipient through sweets, thereby expanding its circle of activities.
SUZETTE continues to grow by meeting ever-changing needs and strives to further boost the confectionery industry and local economies.

Location:Harbor Studio 43, 5-16 Kubocho, Nishinomiya City, Hyogo
URL:https://www.suzette.co.jp/
Publication:MASDAC news January issue in 2023
Confectionery production lines
STUDIO SUZETTE Co., Ltd., which is the production division of the SUZETTE group, produces confectionery at two studios, one in Kanagawa Prefecture and the other in Hyogo Prefecture.
Harbor Studio 43 in Nishinomiya City, Hyogo Prefecture, has adopted various confectionery lines for Henri Charpentier and C3 brands to streamline the production.
〈Henri Charpentier〉Financier Madeleine line
In the past, one line was used for financiers and madeleines by switching back and forth, but a separate madeleine line was added in 2018. Dividing the lines per product has increased efficiency, allowing them to meet demand by increasing the production volume.
During the gifting season when the demand increases, SUZETTE produces about 210,000 financiers and 180,000 madeleines a day. Also, it allowed them to increase the production volume of online-only products shipped directly from the factories.
SUZETTE adopted our Superheated Steam Units "Heat Plus" for both ovens. Compared to before, the baking time was reduced by about one minute, leading to a further increase in efficiency.
"The products are baked moist inside with a crispy outside. We value the rise and color of the products and this setup is very satisfactory," they said.
「Financier」

「Madeleine 」

Financiers in production

Financiers rising during baking

Added Tunnel Oven for madeleine production
〈Henri Charpentier〉 Petits Gâteaux Assortis Line
Eight kinds of products are baked throughout a day. After baking, the products are removed from the baking sheet in a single line by a product pick and place device. This multi-product line saves manpower prior to packaging.
Petits Gâteaux Assortis (financiers, madeleines, caramel, milk chocolate, framboise, pistache, matcha, fraise)

Pistache rising during baking

Product depanning

〈C3〉 Baked Tiramisu line

As the product after baking is very soft, various removal methods have been considered until settling on a method to provide a cup on a mold top with a hole at the bottom. The machine thrusts the product upward from below to remove it from the mold top.

Baked Tiramisu and limited-time only Burnt Caramel Baked Tiramisu

Cocoa powder topping is also automated.

Product depanning

〈C3〉 Sacucci horocci finish line

Adopted in September 2022 to streamline the finishing process after baking the cookie dough. The processes from removing from the mold tops to depositing chocolate and sandwiching the chocolate are automated.

Sacucci horocci (milk, strawberry, chocolate, limited-time only burnt caramel)

Removing the product from the mold tops in a batch. Half of them are as is, and the others are flipped.

Deposit the chocolate and sandwich it.
MASDAC NEWS trial version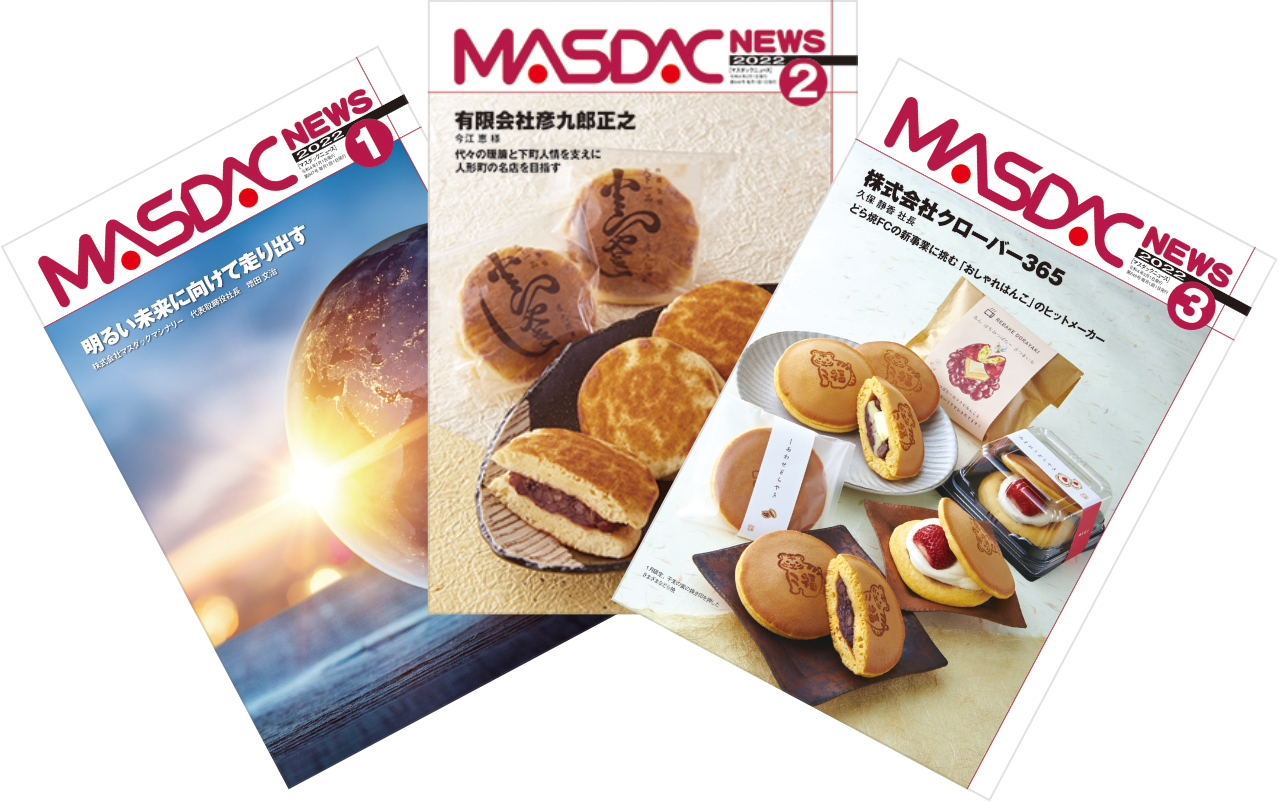 Case studies are published in our PR magazine MASDAC NEWS delivered to users. In the magazine, we present various information related to sweets and food manufacturing, including an interview with our customers' top management. Here, you can check out the trial version of the magazine. For periodical delivery of the MASDAC NEWS in a printed format, please send us a request via the following request form.
View the Trial Version (PDF)
Contact Us
Feel free to contact us about MASDAC machines and services.
CONTACT US
TOP