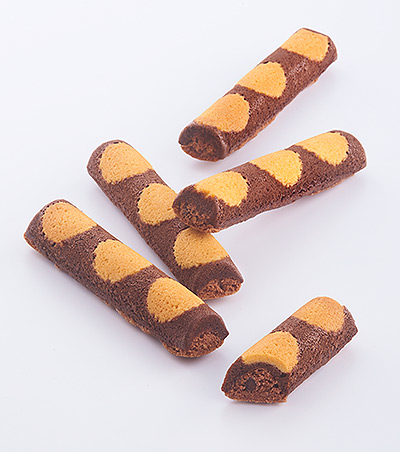 Depositer

Oven

Financier・Madeleine
Stick Brownie
A stick-shaped brownie with fun and colorful patterns. The two kinds of batter have an abundant orange flavor, giving it a refreshing finish. Changing the colors and flavors will create more variations.
Production Processes:
① Depositing the batter (System Depoly)
② Forming by heat press (System Depoly)
③ Depositing the brownie batter (System Depoly)
④ Depositing the chocolate almond cream dough (System Depoly)
⑤ Baking (20 min at 170℃) (Tunnel Oven)
⑥ Cooling
⑦ Removing the brownies from the mold tray

Product information
Weight

36g (batter: 6g, brownie batter: 15g, chocolate almond cream: 15g)

Size

L120mm×W23mm×H22mm

Ingredients

[Batter] cake flour, powdered sugar, compound margarine, almond powder, whole egg, orange, compound, orange food coloring [Brownie batter] whole egg, unsalted butter, cake flour, granulated sugar, sweet chocolate, candied orange peel, milk, cocoa powder, orange liqueur, invert sugar syrup, baking powder [Chocolate almond cream] unsalted butter, powdered sugar, almond powder, whole egg, chocolate chips, 2 - 3.5mm sized walnut pieces, corn starch, brandy, cake flour, cocoa powder
MASDAC NEWS trial version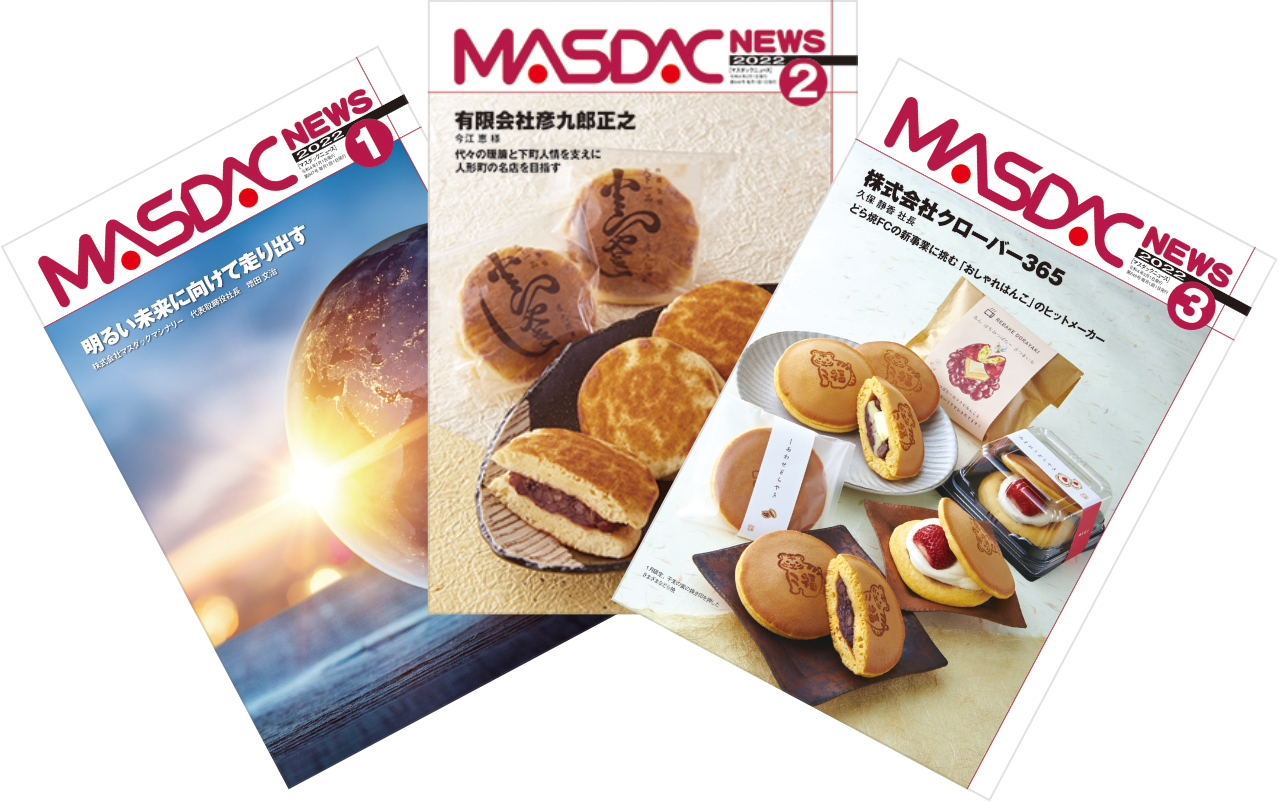 Recipes are published in a series called "This Month's Box of Sweets" in our PR magazine, MASDAC NEWS delivered to users. In the magazine, we present various information related to sweets and food manufacturing starting with an interview with a customer. Here, you can check out the trial version of the magazine. If you would like to receive the book version regularly sent to you, please request via the dedicated form.
View the Trial Version (PDF)