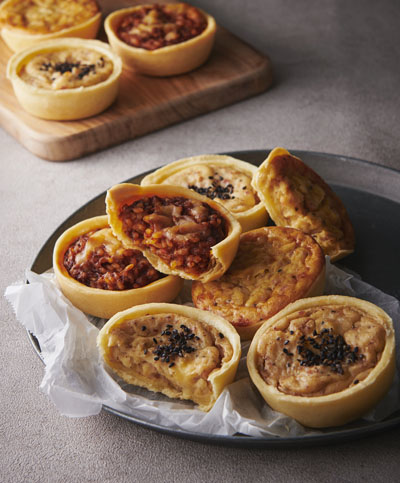 Savory Tart
A savory tart that can be easily eaten with one hand.
By arranging the filling, the variation will expand.
It can be distributed frozen, and you can enjoy the deliciousness of freshly made food at any time by warming it up.
Introducing three types of potatoes, meats, and onions.
Production Processes:
① Depositing Pâte Brisée (SYSTEM-ONE)
② Forming by heat press (SYSTEM-ONE)
③ Depositing filling (SYSTEM-ONE)
④ Topping potato and meat
⑤ Baking (30min) (Tunnel oven)
⑥ Depanning cake from mold tray
⑦ Cooling(Ambient(Natural) cooling30Min)

Product information
Weight

[Potato] 77.3g (Pâte Brisée:27g, Filling:50g, topping:0.3g)
[Meat] 80g (Pâte Brisée:27g, Filling:50g, topping3g)
[Onion] 77g (Pâte Brisée:27g, Filling:50g)

Size

φ70mm×H20mm

Ingredients

Ingredients for Pâte Brisée Common to all three types Flour, Unsalted butter, whole egg, salt
[Potato] potato flake , whole egg, bacon , unsalted butter, mayonnaise , cheese , modified starch, milk , fried onion , black sesame (topping)
[Meat] meat sauce , rice , unsalted butter, black pepper, olive oil , white wine , consomme , cheese (topping)
[Onion] onion , Fresh milk cream, whole egg, Parmigiano powder, bacon , milk , processed food, flour, salt , black pepper, nutmeg
MASDAC NEWS trial version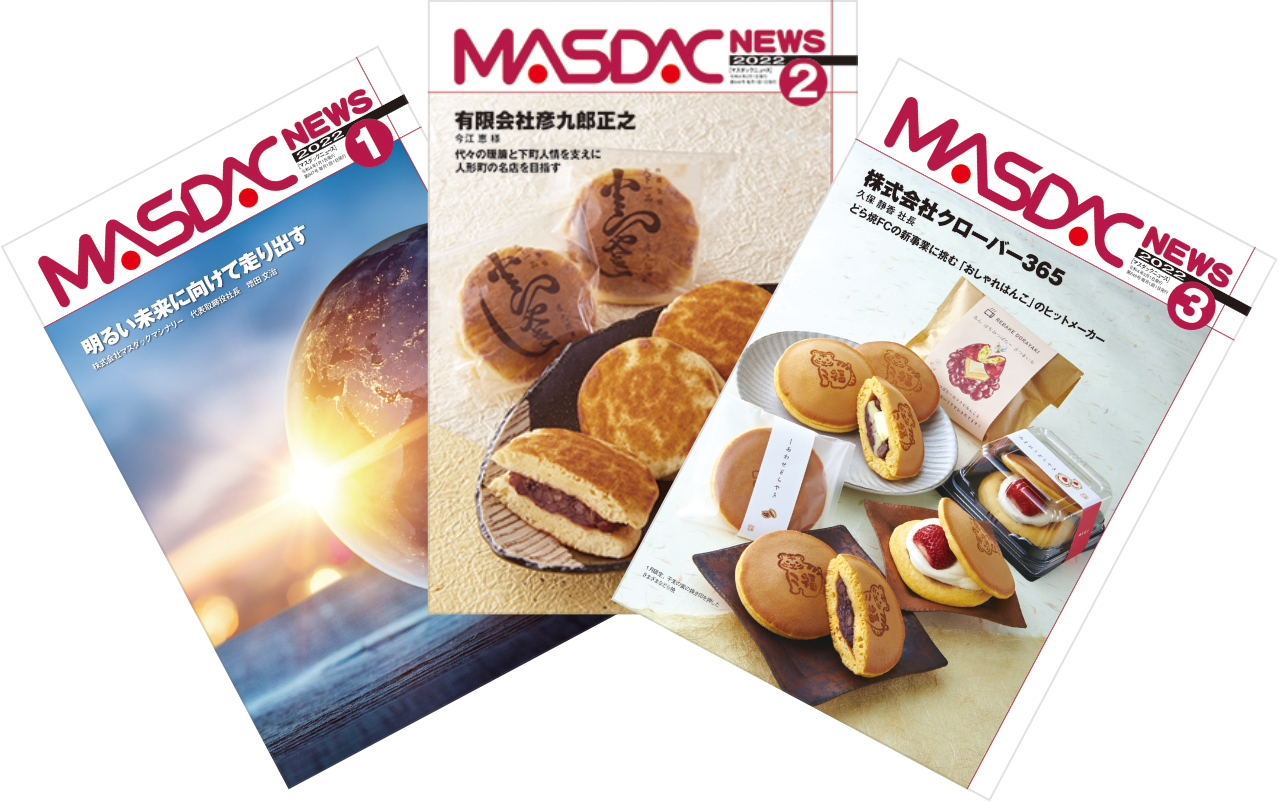 Recipes are published in a series called "This Month's Box of Sweets" in our PR magazine, MASDAC NEWS delivered to users. In the magazine, we present various information related to sweets and food manufacturing starting with an interview with a customer. Here, you can check out the trial version of the magazine. If you would like to receive the book version regularly sent to you, please request via the dedicated form.
View the Trial Version (PDF)