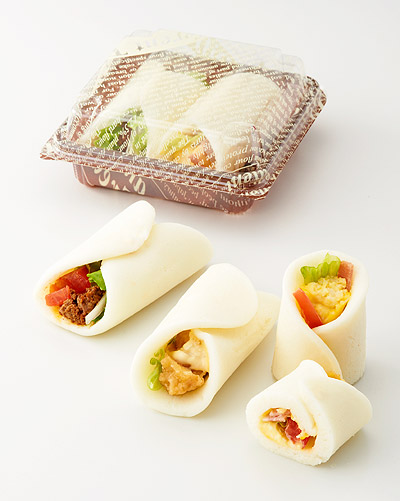 Dorayaki Machine

Dorayaki
Cold Rolled Pancake
Filling rolled in a white pancake. A soft textured pancake matches great with a variety of fillings. It is a filling, fast food alternative to sandwiches that can be eaten stylishly anywhere. Rather large fillings can be rolled in, creating a variation as an actual meal.
We will introduce three variations: BLT, tatsuta-age (deep-fried soy sauce marinated chicken), and taco meat.
Production Processes:
① Depositing the batter (Dorayaki Machine)
② Baking (1 min 50 sec) (Dorayaki Machine)
③ Removing (Dorayaki Machine)
④ Cooling (conveyor belt)
⑤ Placing the filling (conveyor belt)
⑥ Rolling the filling (conveyor belt)

Product information
Weight

BLT: 66g, tatsuta-age: 60g, taco meat: 55g

Size

L90mm×W50mm×H35mm

Ingredients

[Batter]
wheat flour, egg white, sugar, trehalose, vegetable oil, starch, glycerin, salt, baking powder, emulsifier, polysaccharide thickener, bacteriostatic agent
[BLT filling]
bacon, lettuce, tomato, egg
[Tatsuta-age filling]
tatsuta-age, lettuce, tartar sauce
[Taco meat]
taco meat, lettuce, tomato
MASDAC NEWS trial version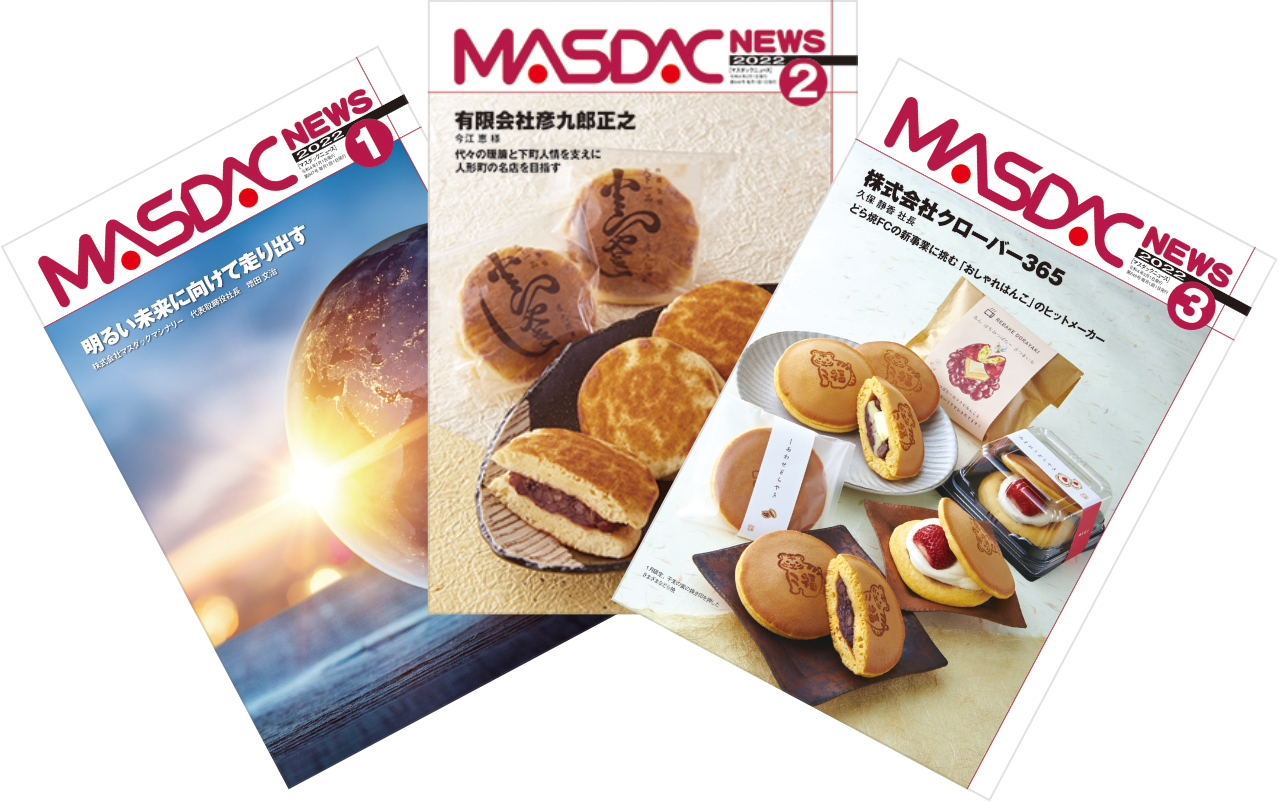 Recipes are published in a series called "This Month's Box of Sweets" in our PR magazine, MASDAC NEWS delivered to users. In the magazine, we present various information related to sweets and food manufacturing starting with an interview with a customer. Here, you can check out the trial version of the magazine. If you would like to receive the book version regularly sent to you, please request via the dedicated form.
View the Trial Version (PDF)