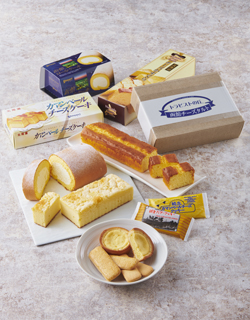 SHOWA SEIKA
Showa Seika has been manufacturing and wholesaling souvenir sweets for the last three generations in Hakodate City, one of the famous tourist cities in Hokkaido.
They have nurtured their strong suit for each generation such as the production of butter candy and hannama (moisture content is greater than dried sweets and less than fresh sweets) sweets, and then custom sales at events. Showa Seika also made changes to emphasize ingredients to create popular products nationwide.
Showa Seika started their path as a confectionery manufacturer with butter candy, but started manufacturing cookies in the 1980s. When the Japanese asset price bubble hit, people wanted high-class items, so Showa Seika reviewed their ingredients and sourced butter, cheese, milk, flour, and sugar from Hokkaido as much as possible, as well as developed high-grade items using select ingredients and commercialized it under the Shinori brand. The name was derived from Shinoridate, a local national historic site.
In recent years, Showa Seika has increased their variety of chilled products and has been competing in quality by focusing on ingredients.
Showa Seika has been working on automation for the production, reduction of complex tasks, waste reduction, and creation of an environment where the employees can work comfortably.

Location:589-39 Nishikikyocho, Hakodate City, Hokkaido Prefecture
URL:http://www.ss-showa.com/
Publication:MASDAC news April issue in 2023
System Depoly, Tunnel Oven
In 2009, Showa Seika adopted a Tunnel Oven and System Depoly for molding tart shells. Our machines are used for baking cookies and cakes as well as molding and baking tarts including Trappists no Oka: Hakodate Cheese Tart, their signature product.
The additional System Depoly is a versatile outwards rotating rotor type depositor, supporting products such as sheet cake and base sponge cakes that require a lot of depositing.
Showa Seika combines a single oven and depositor for each product, allowing them to produce various kinds by switching around a few kinds of products depending on the day.
"Our challenge used to be the variations in deposition amount, but now we can produce more stably. MASDAC's machines are easy to handle with strong after-sales service; we can use them with comfort."

Hokkaido Cheese Castella

Hokkaido Cheese Castella in production

Entrance of the oven
Showa Seika uses our machines for the production of various products.
Rare Chocolate Cake, Camembert Cheese Cake

Hokkaido Milk Tart, Trappists no Oka: Hakodate Cheese Tart, Hakodate Choco Tart

Hakodate Roll Cake, Hakodate Roll Cake Chocolat, Hakodate Shinyuki Roll

Cheese Cake with Farm Milk

Hakodate Meibutsu Ikaika Cookie, Hokkaido Pure Butter Cookie, Hokkaido Pure Camembert Cheese Cookie
MASDAC NEWS trial version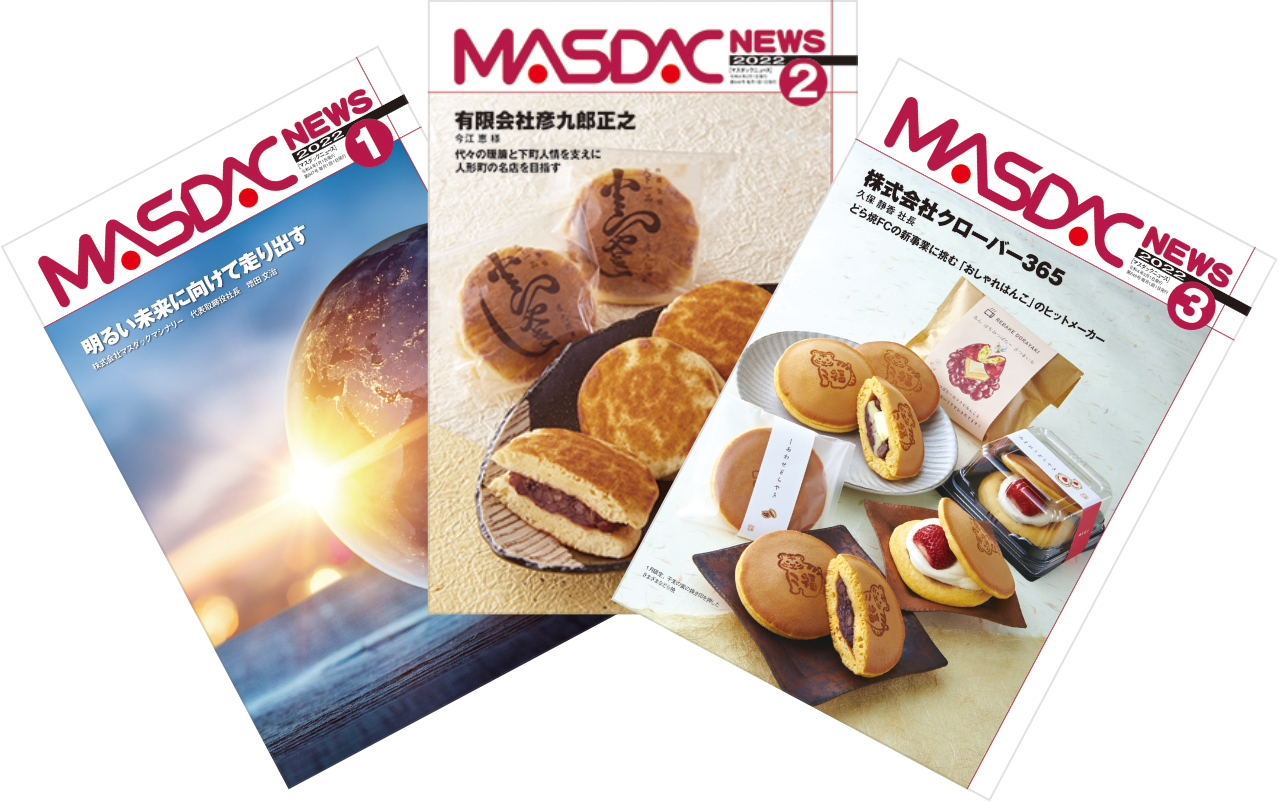 Case studies are published in our PR magazine MASDAC NEWS delivered to users. In the magazine, we present various information related to sweets and food manufacturing, including an interview with our customers' top management. Here, you can check out the trial version of the magazine. For periodical delivery of the MASDAC NEWS in a printed format, please send us a request via the following request form.
View the Trial Version (PDF)