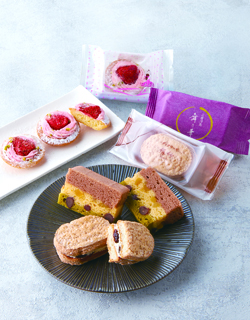 Depositer

Dorayaki Machine

Oven

Steamer

Dacquoise
Minamoto Kitchoan Co., Ltd.
Minamoto Kitchoan runs various brands including Souke Minamoto Kitchoan, a global high-class Japanese sweets brand. 2021 marks the 75th anniversary since their establishment.
In recent years, Minamoto Kitchoan has started focusing on the cultivation of ingredients. The company has established an agricultural corporation in Okayama to cultivate Muscat of Alexandria used for Rikunohoju, and a dedicated primary processing factory for fruit in Uwajima, Ehime.
Minamoto Kitchoan also focuses on new businesses. They established Minamoto Kitchoan Nyugyo Co., Ltd. in 2021 to expand their dairy products and to open Yogurt Four Seasons, their new brand.
Minamoto Kitchoan also runs a museum that has a collection of confectionery machines and holds regular rolling exhibitions to provide cultural information.
They have the vision of creating "culture" and "health" by increasing the growth rate of the company without slowing down.

Location:7-28 Saiwaicho, Kita-ku, Okayama City, Okayama Prefecture
URL:https://www.kitchoan.co.jp
Publication:MASDAC news February issue in 2023
Confectionery production lines
Minamoto Kitchoan produces their products in seven factories across Okayama, Tottori, and Ehime.
Fujita Factory and Senoo Factory in Okayama, where we visited to, are their main production facilities for Japanese sweets.
Bouchee/Dacquoise Line
Minamoto Kitchoan adopted a Bouchee/Dacquoise Line in September, 2021. They switch around three kinds of bouchees and dacquoise to produce depending on the day.
"Until we adopted the dedicated line, we used the shared machines that produced different products, but separating the lines has achieved increased production volume and everything became more efficient. As our production volume is now stable, we would like to brush up on our classic products and develop western sweets with a Japanese taste."
Dacquoise Kinusaya by Souke Minamoto Kitchoan

Dacquoise Kinusaya in production. Depositing the batter.

Applying the powdered sugar

Baking
Tart Line
Previously, Minamoto Kitchoan produced tarts entirely by hand, so they could only produce 3,000 to 4,000 pieces a day, but automating the molding of tart shells with a System One and finishing with a Light Depoly increased the production volume to 12,000 pieces a day. This has also reduced the required number of operators from 14 down to 5 people.
Products from three brands are produced here, but Minamoto Kitchoan connects two Light Depolies to meet the varied needs of finishing per product.
Tututalt by Bon Chaperai

Molding tart shells with the System One

Finishing up Tututalt. The Light Depoly deposits cream into the baked tart shells.
Torayaki/Dorayaki Line
Minamoto Kitchoan replaced the baking machine in March, 2021. One line produces both Tsubuan Oyaki Tsukuyomi with a detailed tiger pattern and dorayaki.
Tsubuan Oyaki Tsukuyomi is baked entirely with top heat and then flipped to give it a soft texture.
Replacement of the machine has further stabilized the product quality.
Tsubuan Oyaki Tsukuyomi by Souke Minamoto Kitchoan

Products are flipped with the paper sheets attached.

Paper sheets are also automatically removed.

Red bean paste is deposited and sandwiched.
Minamoto Kitchoan also uses our production lines for waffels and steamed cakes.
Fukuwatashi Senbei by Souke Minamoto Kitchoan

Cream is deposited on batter baked in a wavy pattern and then sandwiched.

Mainohana by Souke Minamoto Kitchoan

The batter is deposited in three layers and then steamed in the Tunnel Steamer.
MASDAC NEWS trial version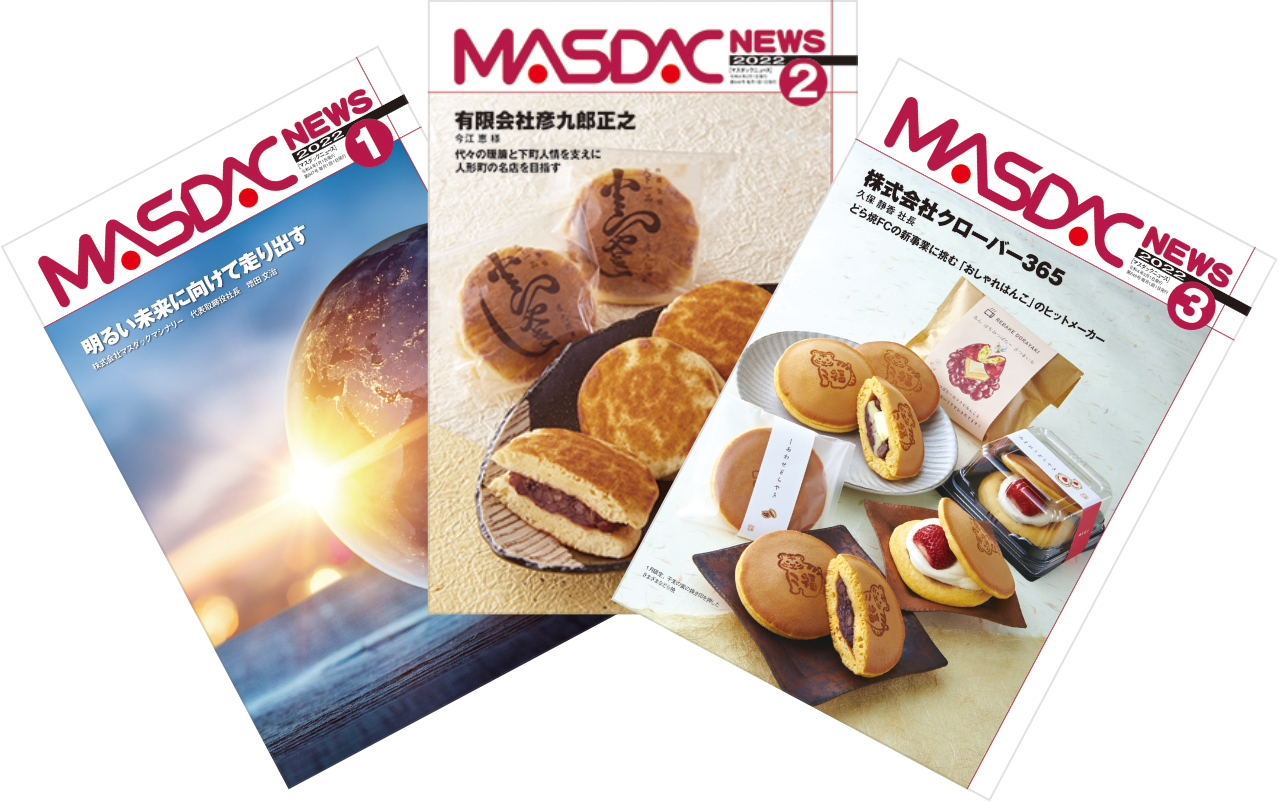 Case studies are published in our PR magazine MASDAC NEWS delivered to users. In the magazine, we present various information related to sweets and food manufacturing, including an interview with our customers' top management. Here, you can check out the trial version of the magazine. For periodical delivery of the MASDAC NEWS in a printed format, please send us a request via the following request form.
View the Trial Version (PDF)
Contact Us
Feel free to contact us about MASDAC machines and services.
CONTACT US
TOP