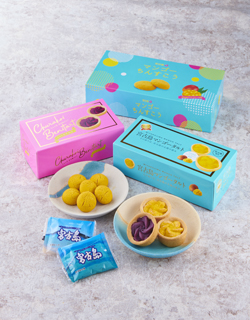 MIKIHO
Mekiho is engaged in the production and wholesale of souvenir confectionery in Miyakojima City, Okinawa Prefecture.
Products manufactured by the company include tarts and chinsuko made from speciality mangoes and locally grown purple sweet potatoes. There are also confectioneries featuring the city's traffic safety awareness doll 'Miyakojima Mamoru-kun'.
In Miyakojima City, there is a continuing rush to build resort-related facilities and an increase in LCC and direct flights from Haneda airport, but there are few manufacturing industries in the island and the production of souvenirs is highly dependent on outside of the island.
Efforts are being made to develop new products using local ingredients, increase the number of souvenir confectionery products that can be differentiated from those on the main island, boost the souvenir market even further and promote the Miyako Island brand throughout the country.

SYSTEM-ONE, Product pick and place device
SYSTEM-ONE was introduced in 2016. The machine is used for the production of tarts and Chinsuko using Miyakojima specialities.
The tarts undergo a three-stage process of dough deposing, heat pressing and filling, while the chinsuko is normally filled using a single head, but depending on the production volume, the company has set up a system that enables mass production using three heads. The company switches products on a daily basis and produces efficiently even with a small number of workers.
In April 2022, a product pick and place device was introduced to transfer baked products to a conveyor feeding to a packaging machine. A suction system that does not damage the products is used, and different sizes of suction nozzles are used for different products.
'We introduced machine to reduce the workload and improve efficiency. 'In particular, in the production of tarts, we used to have to turn the mould tops and take out the products, which put a heavy burden on the staff and increased losses. Now we can work in half the time compared to before, and we can save time for production, which is very helpful in increasing productivity. The working environment has also improved.
Miyakojima Mango Tart, Churakoi Miyakojima Tart, Miyakojima Mango Chinsuko, Miyakojima Mamoru-kun Chinsuko

SYSTEM ONE during production of Miyakojima Mango Tarts.

Product pick and place device

Product depanning of Chinsuko.

Product depanning of tarts. The suction nozzles can be removed without the use of tools, making it easy to switch products.

MASDAC NEWS trial version

Case studies are published in our PR magazine MASDAC NEWS delivered to users. In the magazine, we present various information related to sweets and food manufacturing, including an interview with our customers' top management. Here, you can check out the trial version of the magazine. For periodical delivery of the MASDAC NEWS in a printed format, please send us a request via the following request form.

View the Trial Version (PDF)
Contact Us
Feel free to contact us about MASDAC machines and services.
CONTACT US
TOP