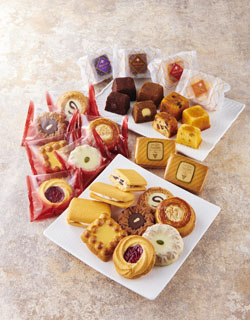 EIKODO CONFECTIONERY
EIKODO CONFECTIONERY is a manufacturer and wholesaler of baked sweets that had their 70th anniversary in 2021.
EIKODO specializes in festive sweets for gifts such as Russian cake, raisin sandwich, dacquoise, and brandy cake. Many of their products are national brands that are sold at supermarkets for gifting purposes as well as OEM and private brand products. EIKODO's customers are major hotels, department stores, high-end sweets shops, coffee franchises, and variety shops.
In 2020, EIKODO became ISO 22000 certified, working on improving the quality and safety while aiming to be the "company to please customers through sweets," which is their management philosophy.

Location:3-2-9 Akitsucho, Higashimurayama-shi, Tokyo, JAPAN
URL:https://eikodo-seika.jp/
Publication:MASDAC news November issue in 2021
Tunnel oven / System Depoly / Stencil Cookie Machine
Since 1979, with replacement and addition, a total of six Tunnel Ovens are working in two factories.
EIKODO adopted a Stencil Cookie Machine in 2013, a System Depoly in July 2021, producing multiple products with high efficiency by combining them with a caterpillar type Tunnel Oven.
Other than their original and signature product, Russian Cake, EIKODO also proactively produces OEM products.
"The toppings of Russian Cake differ depending on the customer, so we sometimes produce 10 kinds by switching around in a day. Among OEM products, we have been receiving a lot of Raisin Sandwich orders, and we use two ovens to produce them on a day with many orders."
Russian Cake, cookies with luxurious appearance; High Raisin, raisin sandwiches; Dacquoise with a soft texture; Pie-batake, pie manju; Marron D'or, cake with a candied chestnut; and Mon Cube, cube-shaped cake

System Depoly producing the same type of cube-shaped cake as Mon Cube

EIKODO adopted the piston system depositor mechanism with high accuracy.
Dacquoise being produced with a Stencil Cookie Machine

Russian Cake and Dacquoise rising during baking
MASDAC NEWS trial version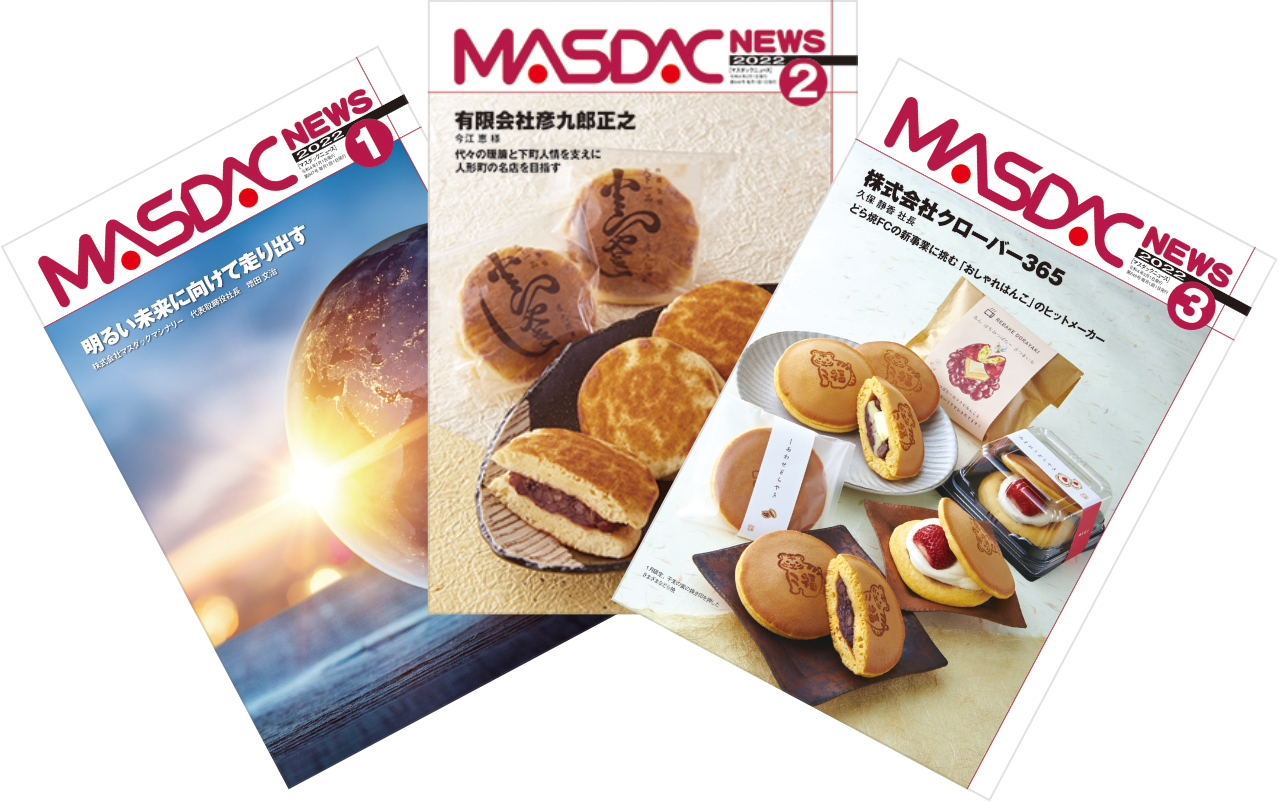 Case studies are published in our PR magazine MASDAC NEWS delivered to users. In the magazine, we present various information related to sweets and food manufacturing, including an interview with our customers' top management. Here, you can check out the trial version of the magazine. For periodical delivery of the MASDAC NEWS in a printed format, please send us a request via the following request form.
View the Trial Version (PDF)