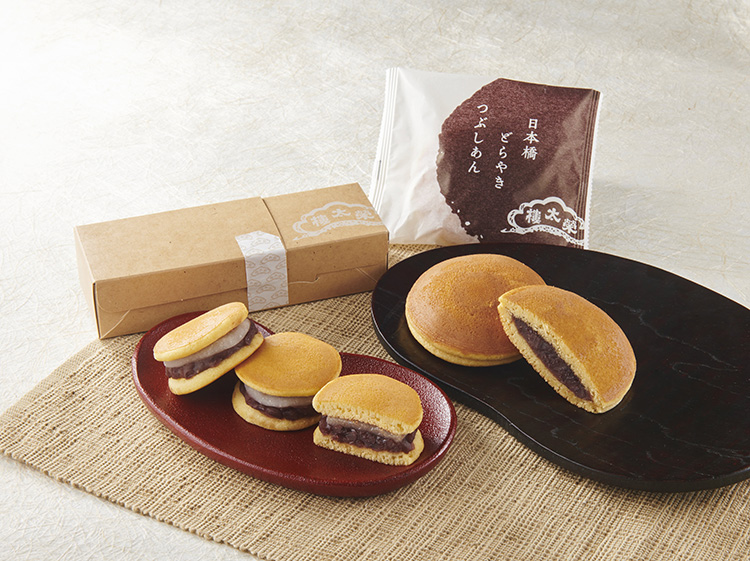 Dorayaki Machine

Dorayaki
EITARO SOHONPO
EITARO SOHONPO was established as Izutsuya, a confectionery shop, in Kudanshita, Tokyo, in 1818. After that, EITARO opened a food stand in Nihonbashi, selling Kintsuba, a traditional confectionery made from red bean paste. In 1857, the name was changed to EITARO, and they opened a shop in Nihonbashi where the main shop is presently located. EITARO developed Umeboshi Ame candy so that aruheito (toffee), which was expensive at that time, could be offered to all classes of people. Since then, the company has continued to develop Amana Natto and Kuroame candy, always responding to the tastes of the times with originality and ingenuity, and still continues to pass on the taste of Edo confectionery as it has always done.
EITARO now has five brands, EITARO SOHONPO, Ameya Eitaro, Nihonbashi Eitaro, Karada-ni-Eitaro, and Tokyo Peasen which all offer various products that have different concepts and customers, ranging from brands specializing in gifts to healthy products.
EITARO renovated the Nihonbashi main shop in August this year and keeps challenging new things while protecting the traditional flavors that have been preserved for 200 years.

Location:1-2-5, Nihonbashi, Chuo-ku, Tokyo
URL:https://www.eitaro.com/
Publication:MASDAC news November issue in 2020
Dorayaki Machine
Along with the completion of their Hachioji Factory in 2013, EITARO adopted a Dorayaki Machine, and they added another one in February 2020 in line with the increase in production volume.
Nihonbashi Dorayaki, whose standard method is to seal the pancakes after depositing the red bean paste, are packaged individually and has a long shelf life, increasing the demand as a souvenir and for some seasonal events.
These machines also produce dorayaki with various sizes, batter, and filling depending on the brands such as a product that is finished up by putting topping on a conveyor belt and a cold product that uses fresh cream.
EITARO mentioned about the machines, "There are not many parts and the operation is easy to understand. The thickness of pancakes varies per product, but adjusting the batter volume and heat is easy and stable at the same time."
Nihonbashi Dorayaki

Baking and removal of pancakes is automated on this Dorayaki Machine. You can add a conveyor belt and a Filling Depositor to streamline the finishing.

Two machines are laid out in parallel for production.
Dorayaki of various brands of EITARO SOHONPO
1. Karada-ni-Eitaro "Slow Calories Dorayaki"
It uses Palatinose, an alternative sweetener that is slow to be digested and absorbed.
2. EITARO SOHONPO "Doraku Doraku Mochi"
Smaller dorayaki that sandwich red bean paste and gyuhi.
3. EITARO SOHONPO "Nihonbashi Dorayaki"
Soft pancakes made with rice puree sandwiched with coarse red bean paste and using the finest ingredients.
4. Nihonbashi Eitaro "Uma Dora" (coarse red bean paste, mochi), "Fuwa Dora" (whipped cream)
The texture of pancakes and filling vary and the product comes in a burger wrapper. Sold only at their shop in Atre Ebisu.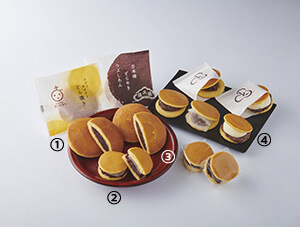 MASDAC NEWS trial version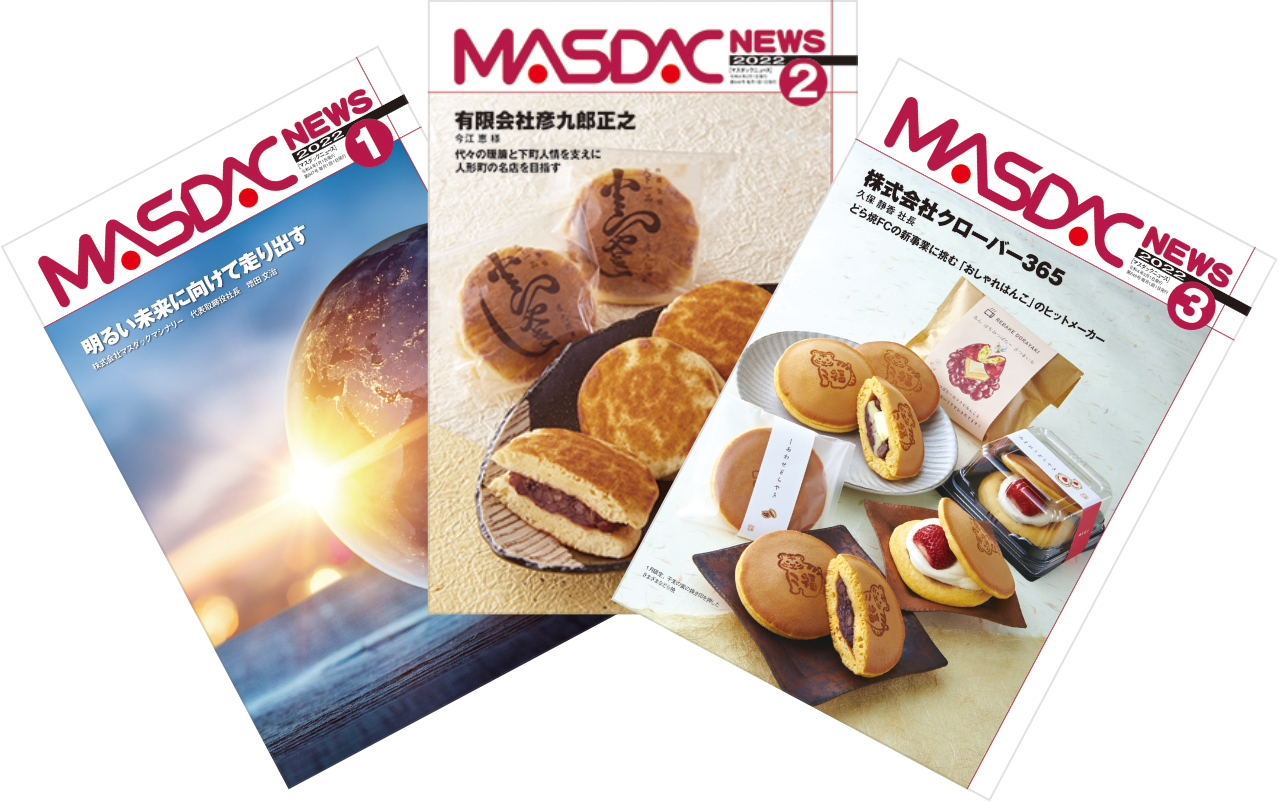 Case studies are published in our PR magazine MASDAC NEWS delivered to users. In the magazine, we present various information related to sweets and food manufacturing, including an interview with our customers' top management. Here, you can check out the trial version of the magazine. For periodical delivery of the MASDAC NEWS in a printed format, please send us a request via the following request form.
View the Trial Version (PDF)